The Golfer's Zoo (Hardcover)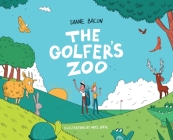 $29.99

Usually Ships in 1-5 Days
Description
---
SELECTED AS ONE OF THE BEST GOLF BOOKS OF 2022 BY LINKS MAGAZINE
Praise for The Golfer's Zoo:
"The Golfers' Zoo was the first book I bought for my baby and it instantly became our favorite. I hope Shane writes more kids' books."
-
Joel Dahmen
, PGA Tour winner
"While I might be a few years north of this book's target audience, I read this cover to cover and loved every page. Finally, a great golf gift for children. And by the way, what can't Shane Bacon do?"
-Tom Coyne, New York Times-bestselling author of A Course Called America and A Course Called Scotland, senior editor of The Golfer's Journal
"Finally, a book my daughter and I can both enjoy."
-Andy Johnson, The Fried Egg
_________________________________
Description
Sometimes Mom and Dad need to get away. The Golfer's Zoo answers the age-old kid's question; where the heck are Mom and Dad going when they take that big bag of sticks out and leave us for a few hours?
Sure, the golf course can be an adventure for parents, but it's also a magical haven for animals to enjoy the sprawling fairways and relaxed watering holes that dot every golf property. From foxes to deer, turtles to sleepy owls, the golf course never disappoints and never bores us. The Golfer's Zoo helps to show how much fun, nature, and animals are on a golf course, to ignite their imaginations and fuel a burgeoning interest in golf.
So help your kids understand the joys of golf, as they take a trip around 18 holes with Mom and Dad and say hello to all the animals that live on the course. They'll never know what they'll see next